Wall of Fame - Article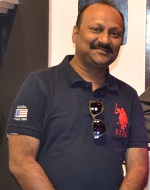 Mr.Raunak Roongta, Partner
Moneymatics Financial Services LLP, Mumbai
I started my career as a stocks sub-broker, at a very early age of 21 in 1992. The first ten years of my career were a roller coaster ride, with no stream of stable income (due to huge stock market volatility). It was then that I realized I can't depend on only one source of income and decided to upgrade myself as a financial planner. In 2003, I decided to add Mutual Funds, Life Insurance and other financial products to embark on a new journey in the distribution of Mutual Funds.
My client base was retail and most of them were salaried class. I was into the habit of seeking referrals from my clients, from the very first day. I have always recommended clients to invest in Mutual Funds through the SIP route to create wealth, as I believed that this is the most disciplined way for savings. Since December 2006, 'DNA Money' newspaper has been publishing my quotes and views regularly on the stock market, MFs, Insurance, gold, real estate, etc. My most famous quote was in Oct 2008 when the market had collapsed to 8,000 levels & then, DNA came out with headlines 'Dear India, hard times are here'. This article has given me a lot of recognition and later on, I also wrote for ET Wealth, Business Line, Navbharat times and some other regional newspapers.
My aggressive stance of fulfilling investors, to invest in equity has helped me boost the client's confidence. Only with a positive attitude, we have succeeded in holding our clients' tide over the turbulent wave of the volatile market & it resulted in landing me amongst the very few IFA's who had a positive AUM YoY (08 vs. 07).
My journey with Mirae Asset had started with their maiden NFO Mirae Asset India Opportunities Fund in April 2008 (now Mirae Asset Large cap Fund). Today we have 100 crore plus, Equity AUM & 1.25 crore plus Equity SIP book with Mirae. We ensured that all our clients had exposure to Mirae Asset Equity Funds.
'If you stay away from fear & greed, then the stock markets are for you', is my favorite opening line with clients & I strongly believe in behavioral finance. I feel proud to be in the business of wealth creation & I am quite passionate about it.