GIFT City
Mirae Asset Investment Managers (India) Private Limited (IFSC Branch), located in GIFT SEZ, Gift City, (Gujarat International Finance Tec-City, Special Economic Zone) Gandhinagar, Gujarat, shall act as the Fund Management Entity (FME) of the Fund. The FME is registered with IFSCA as a Fund Management Entity (Retail) under the IFSCA FM Regulations bearing registration number IFSCA/FME/III/2022-23/034.
The FME (pursuant to authority delegated by the Trustee in terms of the Investment Management Agreement) shall administer the relevant Fund(s) in accordance with the Offer Document. The FME is registered under the IFSCA FM Regulations as a Fund Management Entity (Retail) and shall carry-out the responsibilities of a Fund Management Entity (Retail) as mentioned under the IFSCA FM Regulations.
International Financial Services Centres Authority -> https://www.ifsca.gov.in/
GIFT City is a multi-service SEZ with an IFSC and a local financial centre. It is India's first operational greenfield smart city and IFSC, promoted by the Government of Gujarat as a global finance and IT services hub. The Global Financial Centers Index (GFCI) report, London placed the IFSC in GIFT City among 15 centers globally that are likely to become more significant over the subsequent two to three years. GIFT City was also ranked 1st in reputational advantage in the GFCI.
It is an integrated city with commercial, residential, and social facilities. GIFT City has created high quality infrastructure in the form of District Cooling System (DCS), underground tunnel, automated waste collection system and city level water treatment plant. GIFT City is well connected with leading Indian and international cities.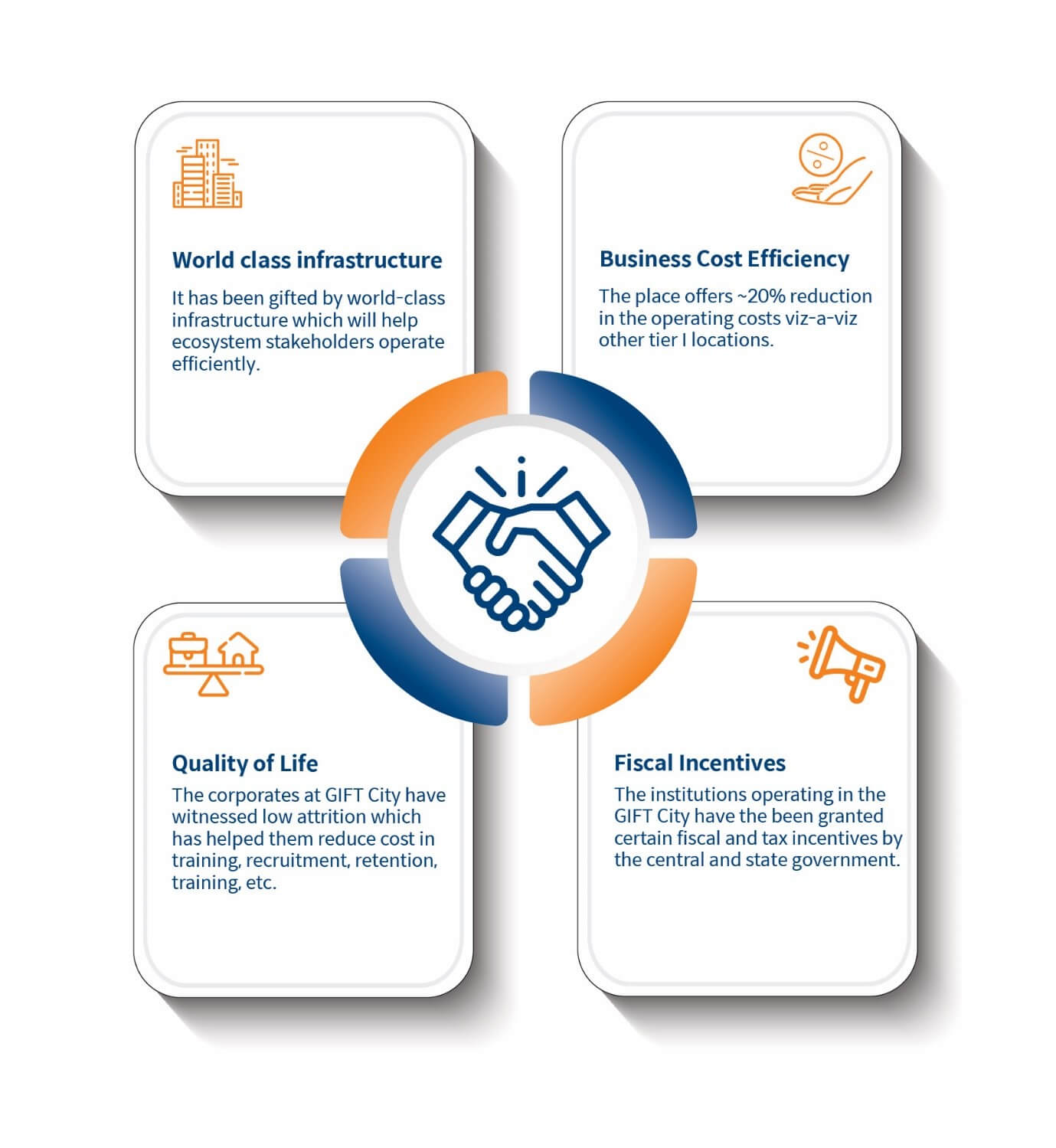 IFSC at GIFT City
IFSC is a gateway and facilitates the movement of international financial services in India. In evolved economies, an IFSC acts as a jurisdiction, distinct from the home country, that provides financial services to non-residents and residents, in any currency (except the domestic currency), while ensuring adherence to the prevailing regulations. Such centres deal with the flow of finance, financial products, and services across borders.
Aim of Setting up IFSC at GIFT City
Inarguably, the financial services sector plays a critical role as an orchestrator of economic growth. In that context, GIFT IFSC was established to attract overseas financial institutions and the overseas branches/subsidiaries of Indian financial institutions to Indian shores and offer them a compelling ecosystem for conducting their financial services business. Specifically, even though it is physically located in India, it has been designated, for all practical purposes, as a location that offers the same ecosystem advantage as their present offshore location. Overall, this would help in the further development and growth of the Indian financial services ecosystem.