Did You Know
7 things to know about ETF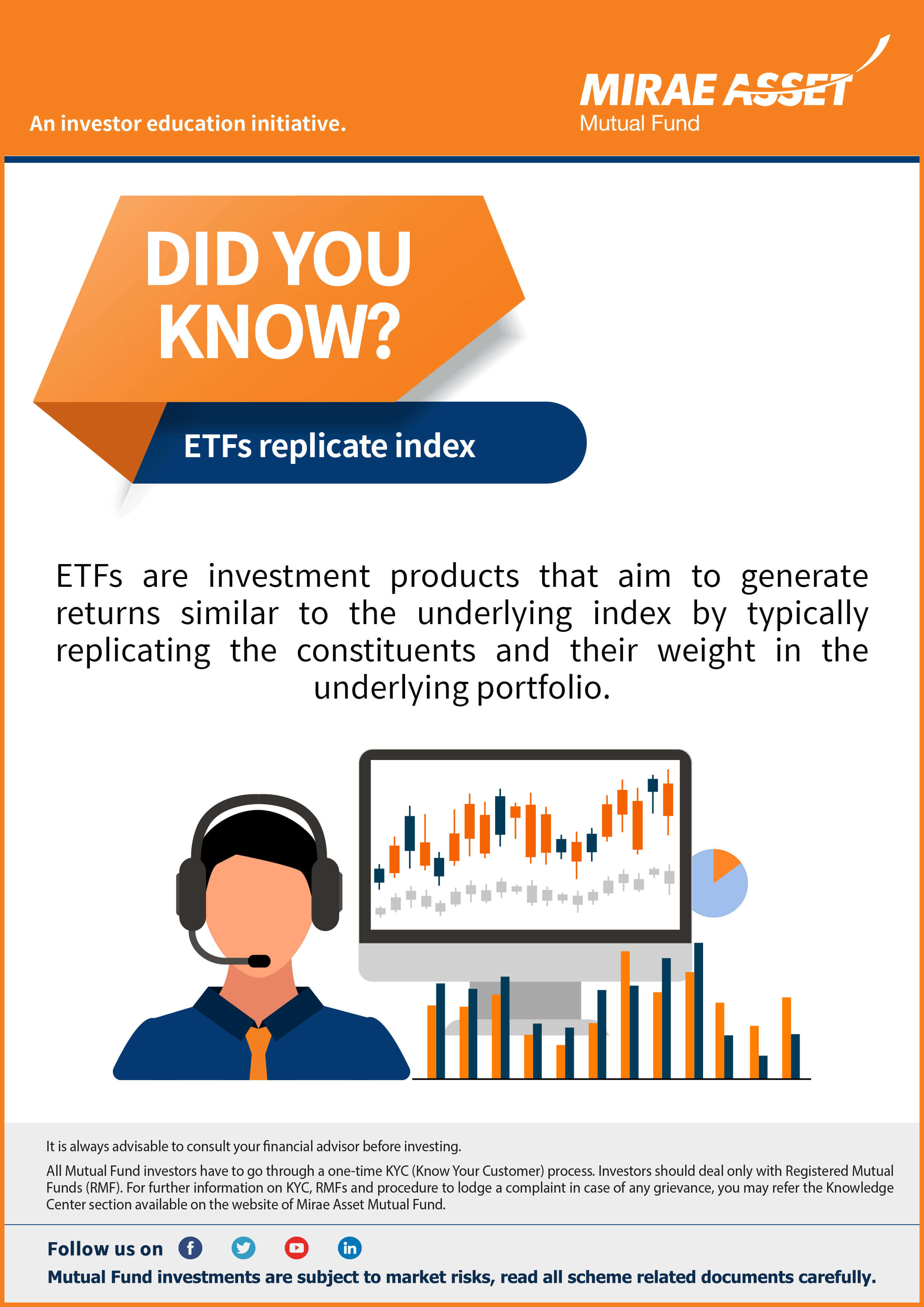 Myth 1: Did You Know – ETFs replicate index
ETFs are investment products that aim to generate returns similar to the underlying index by typically replicating the constituents and their weight in the underlying portfolio.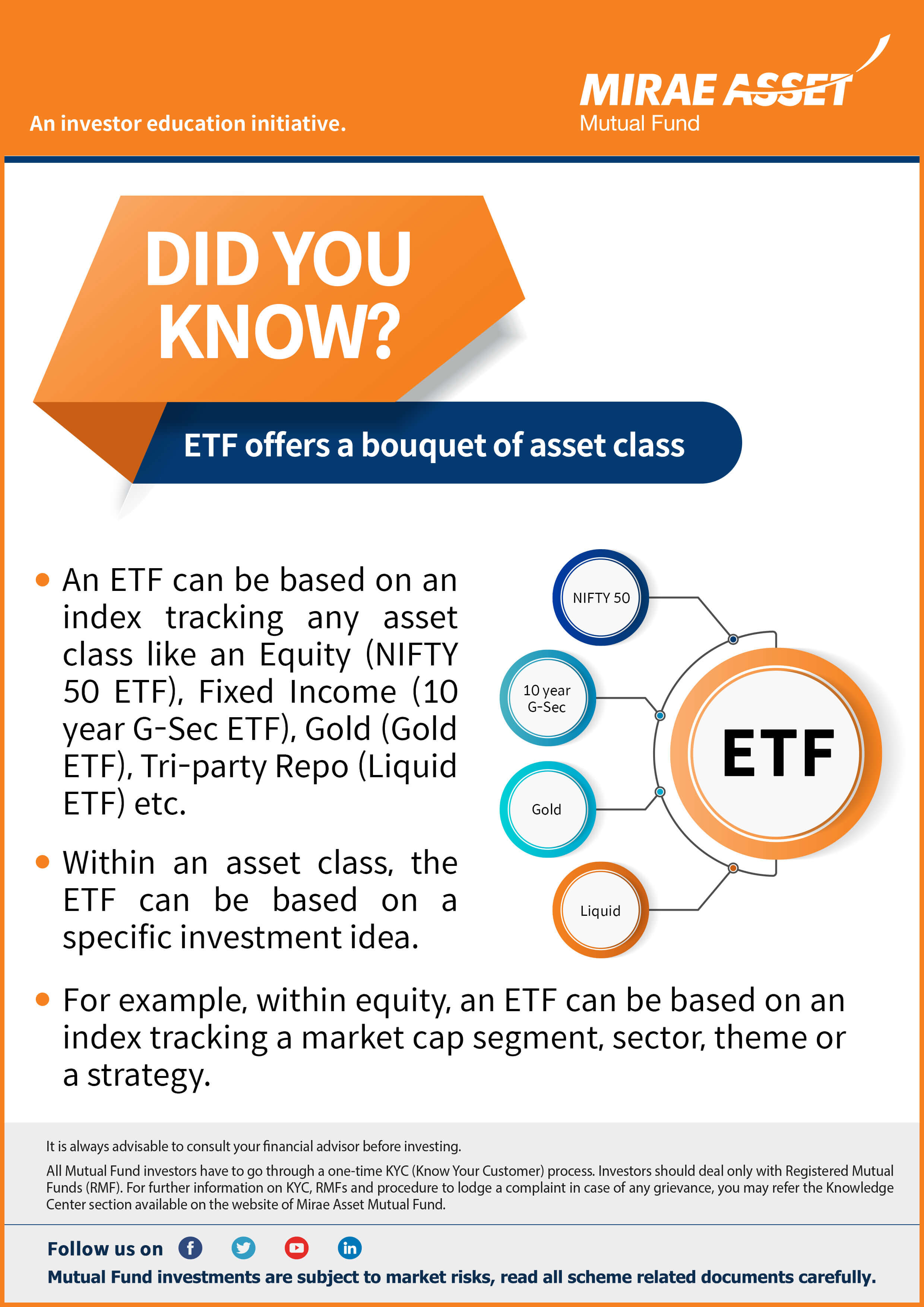 Myth 2: Did You Know – ETF offers bouquet of asset class
An ETF can be based on an index tracking any asset class like equity (NIFTY 50 ETF), Fixed income (10 year G-Sec ETF), Gold (Gold ETF), Tri-party repo (Liquid ETF) etc. Within an asset class, the ETF can be based on a specific investment idea. For example within equity, an ETF can be based on an index tracking a market cap segment, sector, theme or a strategy.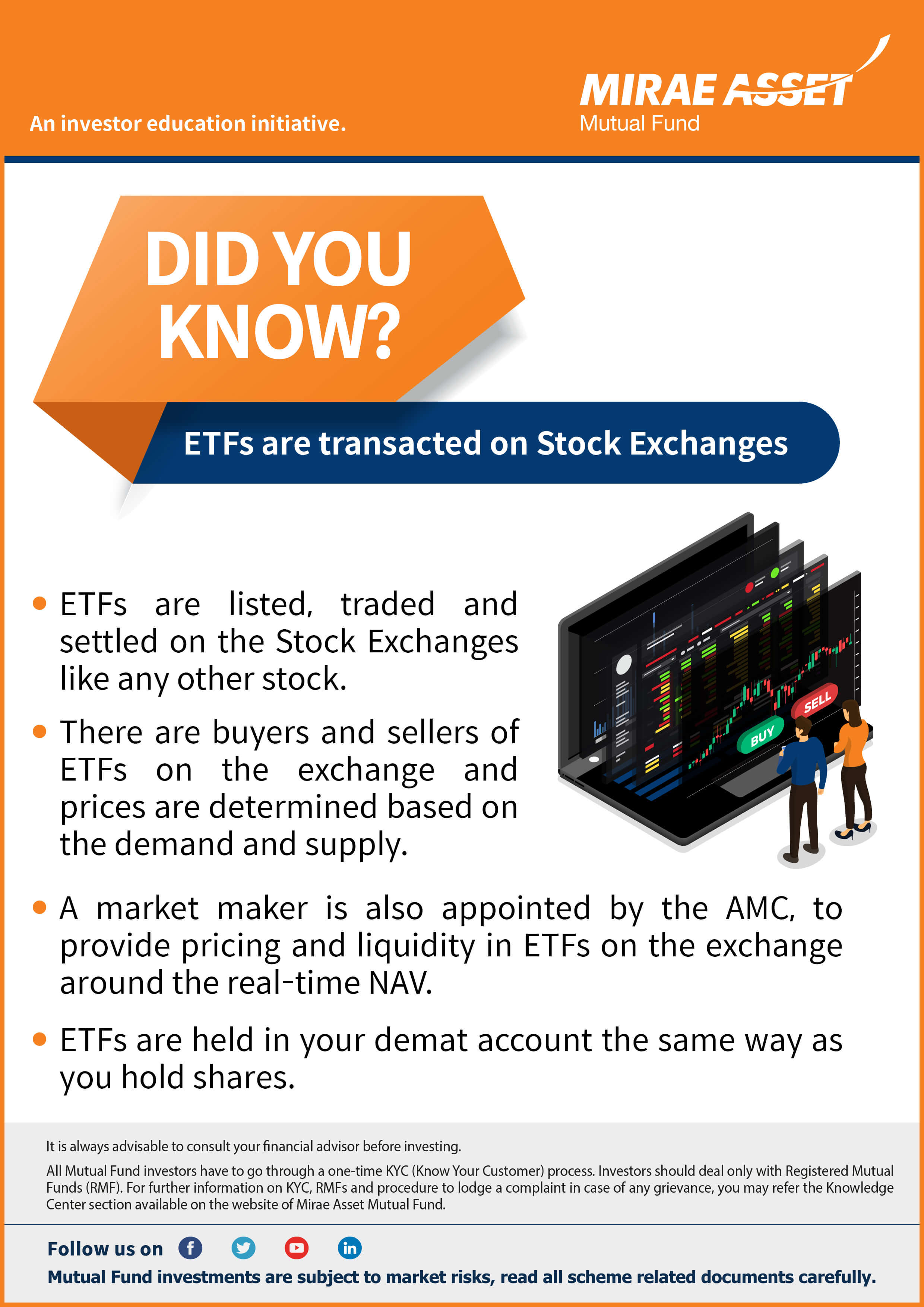 Myth 3 : Did You know – ETFs are transacted on Stock Exchanges
ETFs are listed, traded and settled on the Stock Exchanges like any other stock. There are buyers and sellers of ETFs on exchange and prices are determined based on the demand and supply. A market maker is also appointed by the AMC, to provide pricing and liquidity in ETF on the exchange around real time NAV. ETFs are held in your demat account the same way as you hold shares.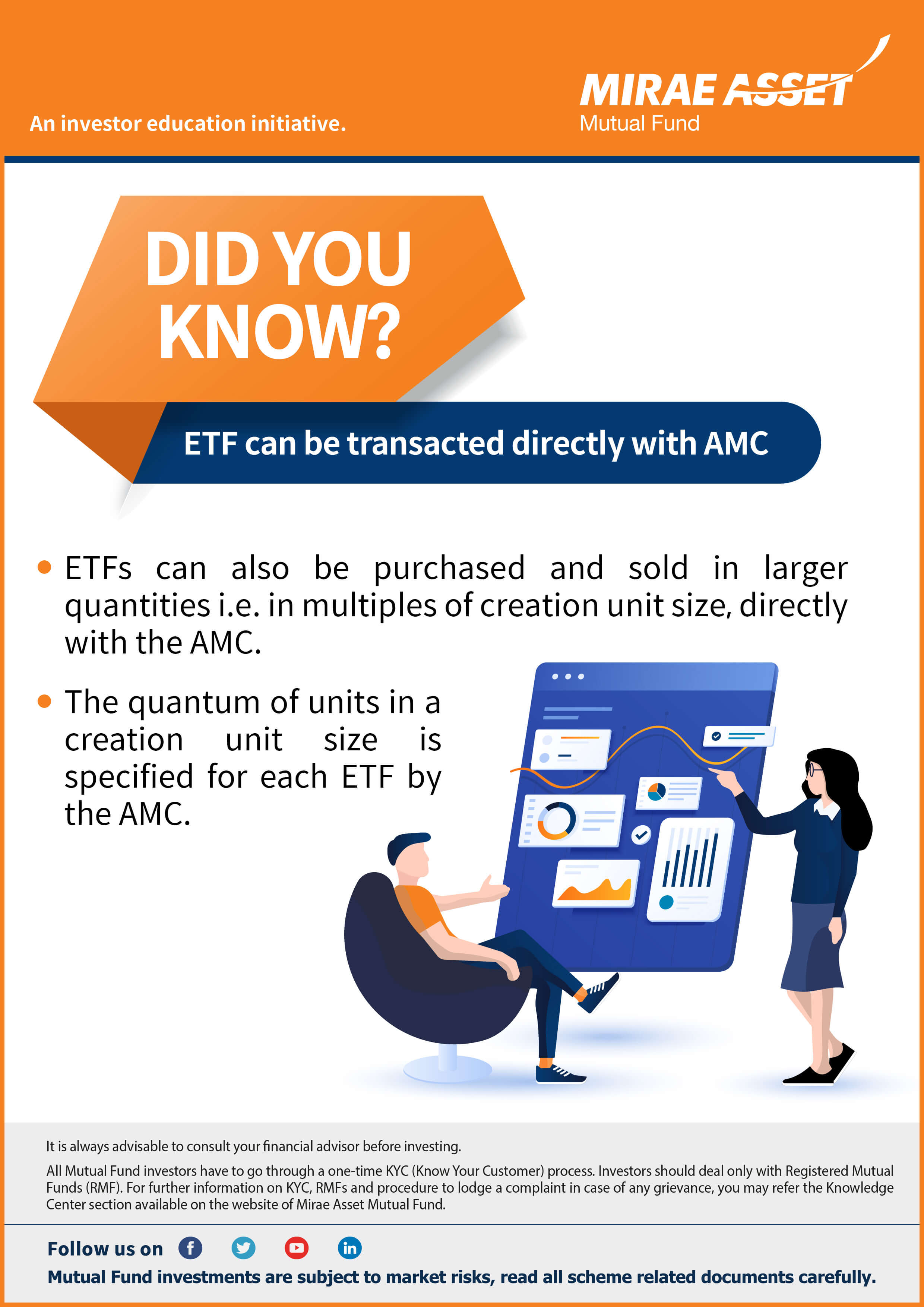 Myth 4: Did You know – ETF can be transacted directly with AMC
ETFs can also be purchased and sold in larger quantities i.e. in multiples of creation unit size, directly with the AMC. The quantum of units in a creation unit size is specified for each ETF by the AMC.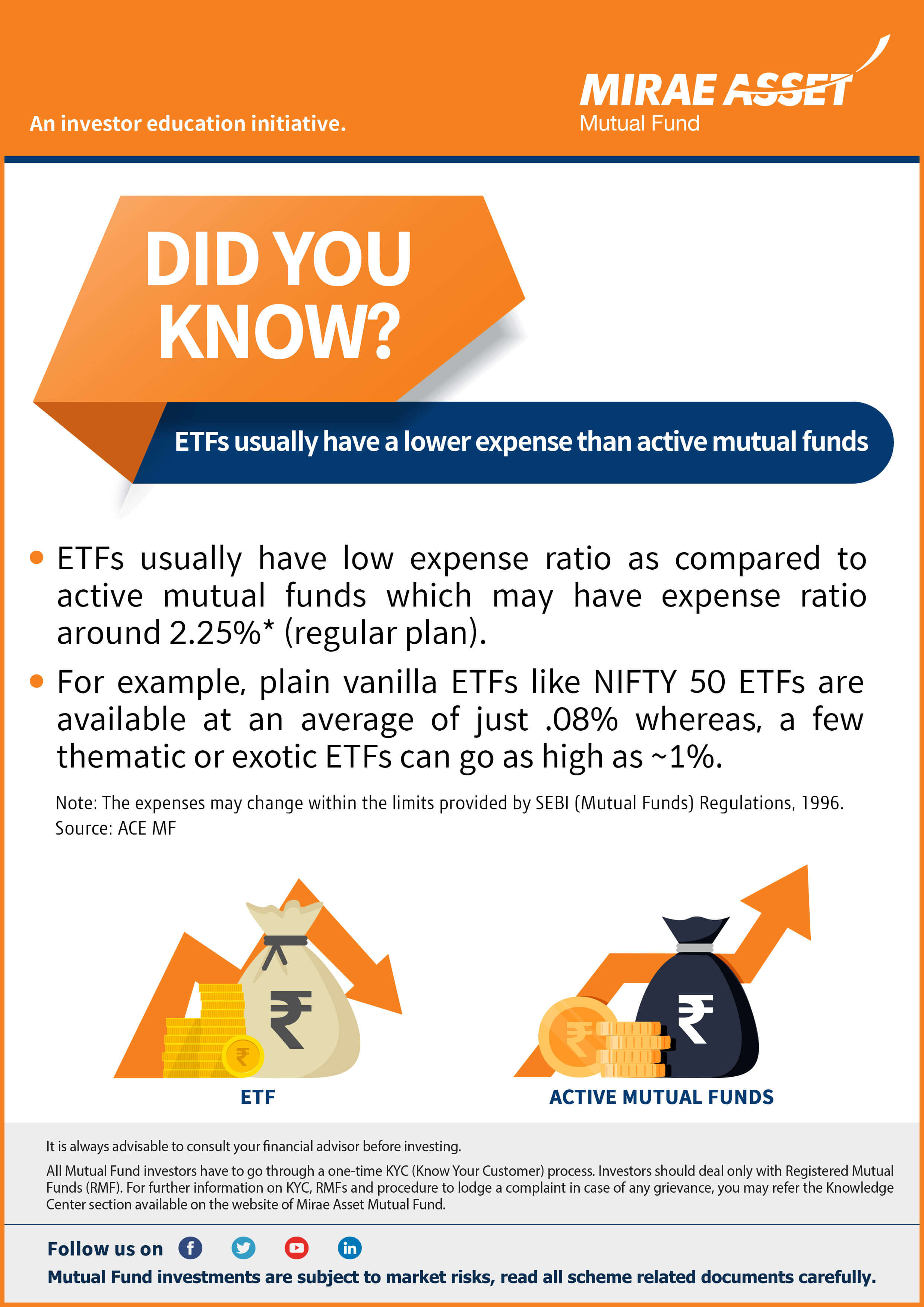 Myth 5 : Did You Know – ETFs usually have a lower expense than active Mutual Funds
ETFs usually have low expense ratio compared to active mutual funds which may have expense ratio around 2.25%*(regular plan) For example, plain vanilla ETFs like NIFTY 50 ETFs are available at an average of just .08% whereas, a few thematic or exotic ETFs can go as high as ~1%.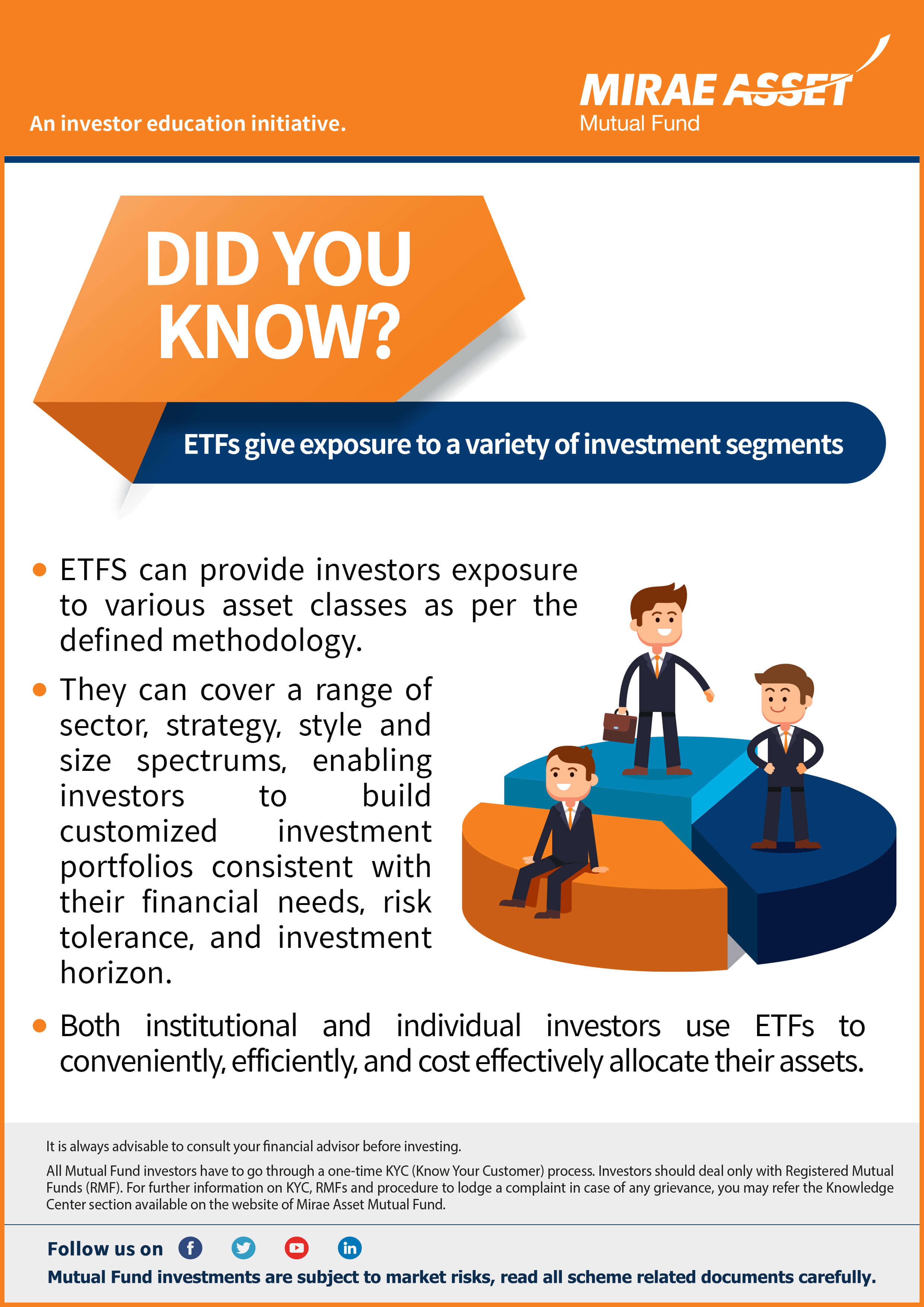 Myth 6 : Did You Know – ETFs give exposure to a variety of investment segments.
ETFs can provide investors an exposure to various asset classes as per the defined methodology. They can cover a range of sector, strategy, style and size spectrums, enabling investors to build customized investment portfolios consistent with their financial needs, risk tolerance, and investment horizon. Both institutional and individual investors use ETFs to conveniently, efficiently, and cost effectively allocate their assets.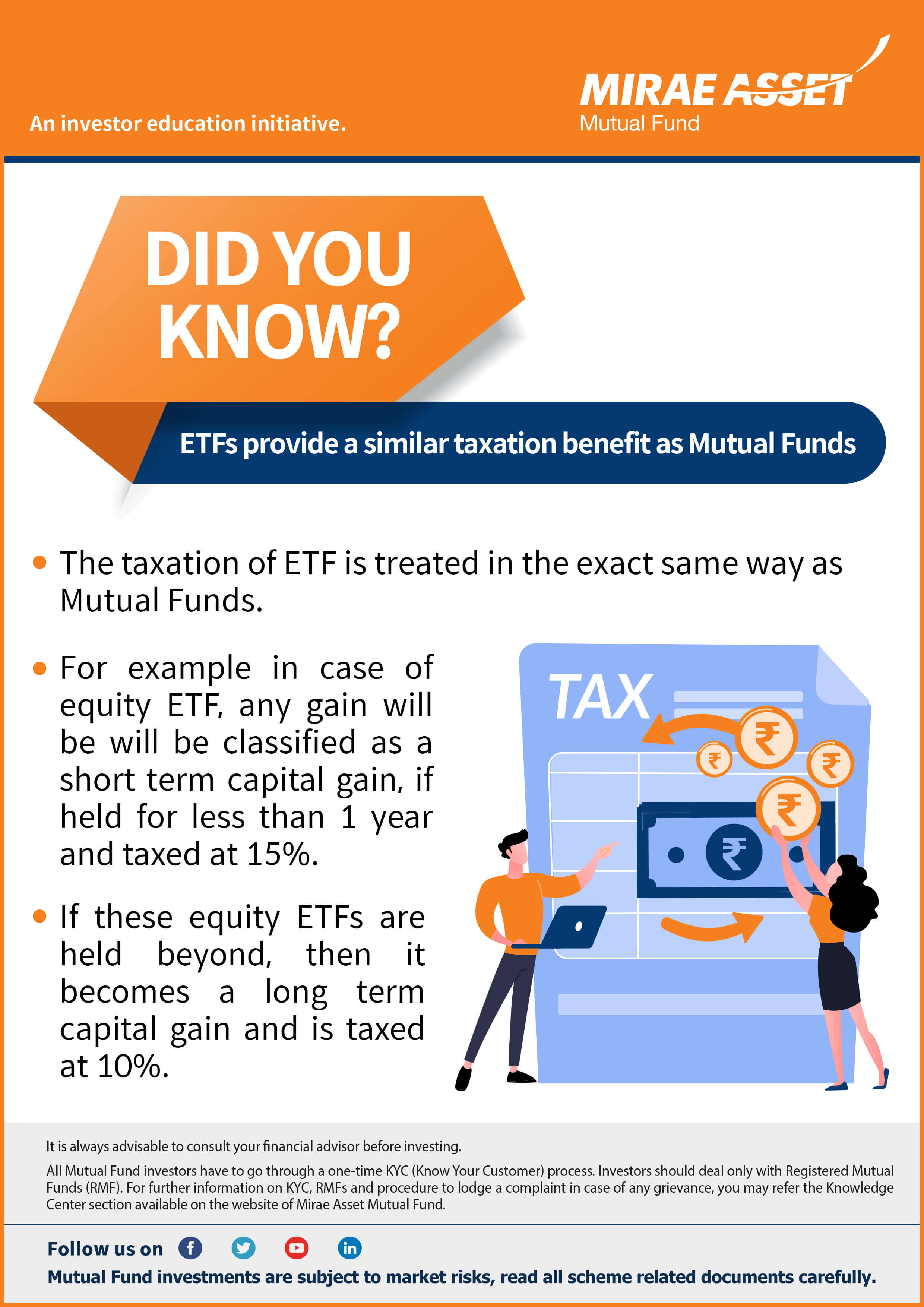 Myth 7 : Did You Know – ETFs provide a similar taxation benefit as Mutual Funds
The taxation of ETFs is treated in exactly the same way as equity funds. For example, in case of equity ETF, any gain will be classified as a short term capital gain, if held for less than 1 year and taxed at 15%. If these equity ETFs are held beyond 1 year, then it becomes a long term capital gain and is taxed at 10%.